JULIE BAUER PARIS
The house
The Story of Julie Bauer Paris begins when her founder, Julie Bauer, decides to give life to her innate passion, to create bridal dresses.

It is therefore natural that she's reoriented towards fashion design after a successful career of 10 years as a graphic designer. After 3 years of training at the prestigious Atelier Chardon Savard Paris school, she graduated with a degree in Fashion De- signer and dressmaker : "I loved changing my profession to fulfill my childhood dream and live about my passion. There is a quote from Mark Twain that helped me persevere in this great project : "They did not know it was impossible, so they did it". "
In 2016, she designed her first tailor-made bridal dresses with exclusive design, which met a great success: "I make tai- lor-made bridal dresses with a sewing know-how that guarantees the customer a perfect fall and a great comfort to worns ; The greatest honor is to see the bride's face light up when she sees herself for the first time in the mirror … emotions guaran- teed for the assembly!
The Julie Bauer Paris House's has a sewing know-how for the realization of bridal dresses.
We work from the draping : "With a muslin pattern we search some volumes to define the fall, the cut and details of the dress according to the request from the bride. This step is very important to create the dress. And then we sew a prototype and try it on the client to make any corrections.
We also have a solid know-how to make your dress with the most noble fabrics and laces that require a great delicacy in their handling.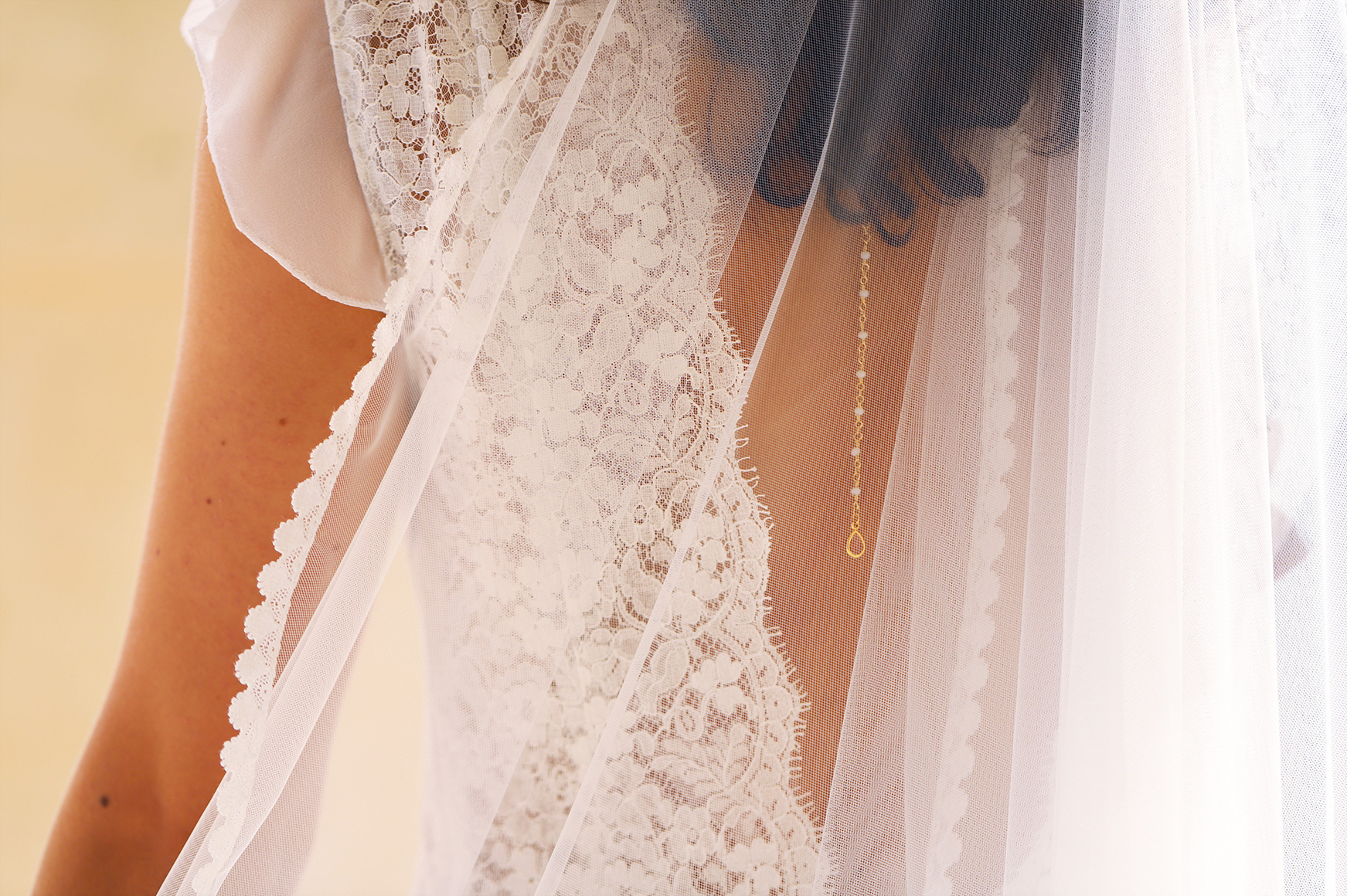 Julie Bauer, the fashion designer, keeps a point of honor to create her bridal dresses exclusively in France :
"From the study to the creation of the dresses, we want to work in-house with qualified patternmakers and seamstresses to keep 100% of the creative process in-house and guarantee the quality of the dress of your dreams".
"I work exclusively with the suppliers and manufacturers in France and England to keep a hight quality of fabrics and safe the know-how of ours beautiful countries".

WHAT'S HAPPEN DURING
THE FIRST MEETING ?
During this first meeting, we will talk about you, your aspirations, your style, your personality, the concept of your wedding, the place of reception and your favorite fabrics and laces, then we will propose you a dress from our collection "Promesse" adapted to your personality and your morphology.
In an intimate atmosphere we will suggest you to try your favorite dresses.
And then we will take your complete measurements to begin to make the dress of your life.
4 fittings and 6 months will be necessary to its realization.
YOU LEAVE THE ATELIER WITH STARS IN YOUR EYES !